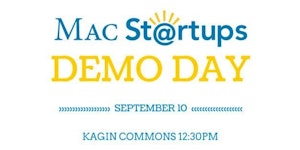 Mac Startups, the summer accelerator for channeling Macalester College students' entrepreneurial energy, is nearing a second demo day as part of Twin Cities Startup Week.
At 12:30pm on Thursday, the program will commence with remarks by President Rosenberg and the college's first Entrepreneur In Residence (EIR), Kate Reiling.
The event will be focused around networking and demos, including these tech upstarts to watch for:
ArtDefy is an online community that helps artists of marginalized gender identity (transgender, gender non-conforming, etc) connect to create safer spaces for collaborative art and expression.
Plannd solves the problem of what to do for date night by coming up with novel, creative date ideas for people and planning them out. Unlike most dating services which focus on connecting singles, Plannd turns its attention to people already in relationships.
Unanimus is a mobile app that transforms group decision making from a headache into something smooth and simple. While Unanimus is applicable to a wide range of situations, the initial focus is on the decision of which restaurant to choose for a group meal.
Other, low tech/no tech ideas coming out of the progam include: CoArt Designs, Compost Cart, and Nüdl and VendFresh.
RELATED
Mac Startups makes it happen for Macalester College students
It's Startup Summer For These Macalester Students