Mark Wilkie, the former CTO of Buzzfeed, has joined has joined Minnesota mobile startup Who's Driving as the Technology Lead.
Wilkie moved back to Minneapolis from New York over the winter and officially started after the turn of the year.  A New York native married to a Minnesota native, he had previously spent 10+ years of life here during the 90's.
As employee number one at Buzzfeed, Wilkie grew the engineering team to over 175 people during his nine year tenure.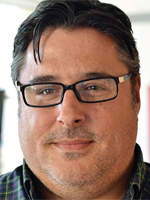 "Buzzfeed has gotten really big, which is great, but it grew beyond what I personally enjoyed doing," he says of the change.
Wilkie has known the cofounder of Who's Driving, Anne Cramer, and partner/investor Paul Cramer, for 20+ years.
"What makes a startup successful is the people.  It's what I love to do, working with startups is what get's me excited."
His plan is to grow a small team and start executing; express areas of interest are mobile, ruby, and design.
"There's such great talent and a dev community, frankly I think that it will be a lot easier than it was in New York."
The Who's Driving app is a mobile carpooling solution currently in iOS beta.
RELATED